AquaMon® SIMAT™ Surface Irrigation Monitor and Alert Technology
AquaMon Surface Irrigation Monitor: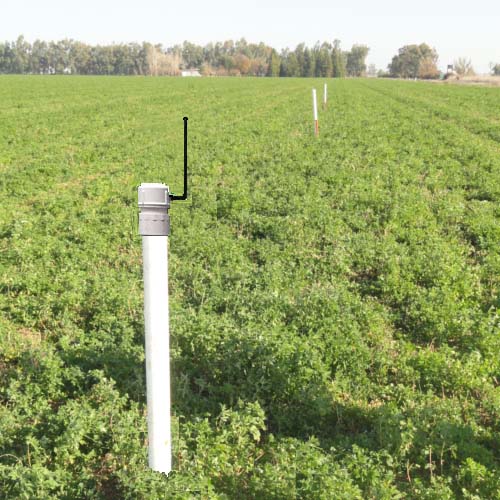 The AquaMon SIMAT system improves the efficiency and reduces the environmental impact of surface irrigation. SIMAT employs a temporary wireless sensor network to monitor water flow in the field. The wireless network includes a hub and multiple wireless sensor nodes installed within 2 miles of the hub. The sensor nodes report the presence of water at the hub. The hub transmits the sensor data to Cermetek's RSVP (Remote Sensor Viewing Platform) web software. RSVP allows workers to monitor water levels at critical locations with any browser equipped tablet, laptop, or smart phone. When the water reaches a preset critical level, RSVP sends a Text or Email to notify the grower to shut off the water source.
Surface water sensing technology developed and tested by researchers at UC Davis and transferred to Cermetek through a Sustainable AgTech Innovation grant.
Surface Irrigation Monitor Specifications
The Hub connects to the Internet through a GSM or CDMA Cellular connection
A proprietary Cermetek radio with a range of up to 2 miles links Sensor Nodes to the Hub
The Hub supports up to 255 sensor nodes. Typical systems require just 3 to 4 nodes
A 12 Volt, Lead-Acid Battery powers the Hub; AC Adapters and Solar Chargers are available
Sensor Nodes are powered by 4 AA batteries that typically last the entire irrigation season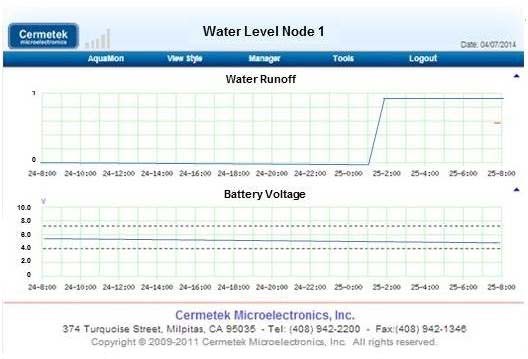 Benefits of Surface irrigation Monitor
Tighter control of water reduces water use and tail-water discharge
Ability to view data on a web browser eliminates trips to the field, reducing labor costs
Portability; use one system in many fields
Grower controls placement of sensors and defines alert notifications
above: Sample RSVP Display
Cermetek reserves the right to make changes in specifications at any time and without notice.
The information furnished by Cermetek in this publication is believed to be accurate and reliable.
However, Cermetek assumes no responsibility for its use, or for any infringements of patents or other rights of third parties resulting from its use.
No license is granted under any patents or patent rights of Cermetek Microelectronics, Inc. Copyright 2016 Cermetek Microelectronics, Inc.